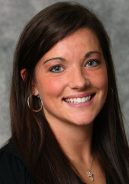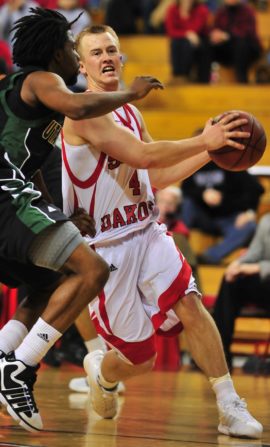 Don Jacobsen graduated from Lake Norden High School in 1957 after scoring 2,825 points for the Bluejays. That total reigned as the South Dakota boys career record for 50 years.
     Until Dec. 20, 2007. That night White River star Louie Krogman moved past Jacobsen in a Lakota Nation Invitational game at the Rushmore Plaza Civic Center in Rapid City.
     Krogman (pictured at left in a University of South Dakota photo during his college career) concluded his White River prep career in 2008 with 3,521 points. He leads the list of 44 documented boys who have surpassed the 2,000-point plateau in state history. Jill Young (pictured at right) of Mitchell Christian graduated in 2007 with 3,317 points and leads the 31 girls in the state who have reached 2,000. Young later played at South Dakota State University. Click on 'Records' at the top of this website to see both complete lists.
     The first player to reach 2,000 points in South Dakota was Stanton Uhlir in 1951. He notched 2,023 for Kadoka. Nine more boys players surpassed the milestone before the decade of the 1950s came to an end: Jacobsen, Milt Sorenson, Bob Swanhorst, LaMoine Torgerson, Jerry Wingen, Dale Hall, Terry Slattery, Cliff Albee and Phil Miedema. Among girls in the state Robin Anderson of Clear Lake was the first to surpass 2,000. She totaled 2,332 points before graduating in 1980.