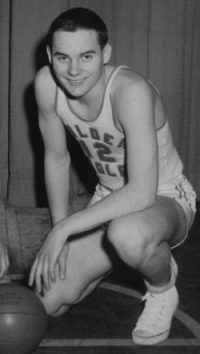 The ultimate goal of all high school basketball players in South Dakota is to help their teams reach the state tournament. Those fortunate enough to accomplish that feat make memories during three days in March that last a lifetime.
     Many of our greatest players throughout the decades have earned lasting respect because of their outstanding performances in state tournaments. But there are many other equally talented players who never had that chance.
     The 2017 Fall Newsletter of the South Dakota High School Basketball Hall of Fame was sent Nov. 13 to the people on our mailing list. Among featured stories is a look back at some of the elite in north-central South Dakota. Some who never reached the state tourney ….. and others like Bob Stewart (right) who did. Stewart starred at Aberdeen Central before graduating in 1949 and moving on to the University of Colorado where as a senior he was captain of the Buffaloes.
     The newsletter also examines a South Dakota State University team that made a national impact behind an all-South Dakotan starting five; a rivalry between Yankton and Watertown that helped tip off girls basketball in the state; and a memorable player, Don Jongewaard, whose life tragically ended far too soon.
     We hope the newsletter has something for everyone who loves basketball.