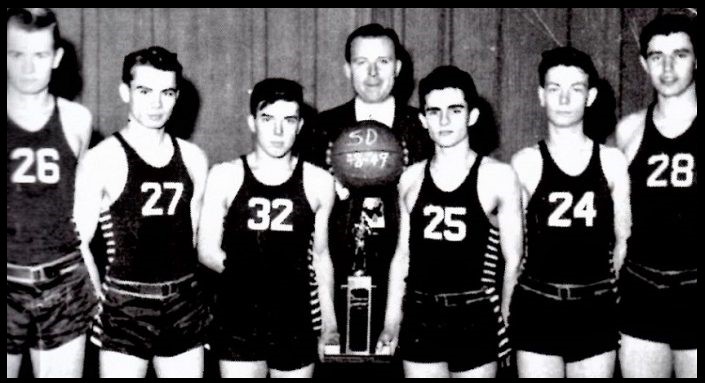 A genuine love of basketball. Everlasting pride in his school. An appreciation of the importance of recognizing history and of never forgetting the past. All of those feelings were ingrained in the nature of Dean Lee.
     South Dakota School for the Deaf was home to Dean for 12 years. Unable to hear or speak, he took from his time there a positive, optimistic outlook which served him well upon his return to Forestburg after his graduation in 1952.
     Dean wore his Pheasants jersey with pride and was a standout in basketball and track. He was a freshman in 1949 when he helped School for the Deaf win the District 18 basketball championship. Team members were, from left in the SDSD photo above, Ken Czerny, Bob Ellis, Dana Dillman, Coach Roy Holcomb, Jerry Berke, Dean, and Walt Baumgartner.
     Loyalty to his school was such an important part of Dean that in his will be bequeathed a gift of $25,000 to the South Dakota High School Basketball Hall of Fame, of which he had been a longtime friend and supporter. Dean specified in his will that the donation be used to strengthen the Hall of Fame's endowment to help preserve the legacy of the School for the Deaf. Dean had reached the age of 86 at the time of his death on Sept. 27, 2020. Go to the Newsletter Archives section on the right-hand side of this website to read more about Dean's life in the 2021 Spring Newsletter.