Throughout the history of basketball in our state – since the sport was first introduced in South Dakota at a summer conference at Big Stone Lake in 1896 – Native American players and teams have excelled with st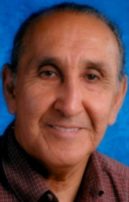 yle and with flair.
     The talent of standout players such as Louis Tyon (right) earned the respect of fans across the state. Tyon led the Pine Ridge Thorpes to the Class B state championship in 1962 and then to a runner-up finish in 1963. He was chosen first team all-state both seasons.
     The South Dakota High School Basketball Hall of Fame has published its 2020 Spring Newsletter. Among featured stories are several which recognize the many important contributions to South Dakota basketball made through the years by Native Americans.
     Our 12th biannual newsletter was mailed free on April 23 to the over 1,200 current subscribers who follow the Hall of Fame from 40 states. We publish both spring and fall editions. To read past issues go to Newsletter Archives on the right-hand side of this website.