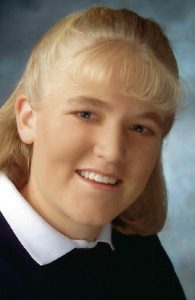 ROOSEVELT 'ROUGH RIDERS' – 2000
     Mandy Kappel seldom had to deal with defeat during five seasons as a starting guard at Sioux Falls Roosevelt High School. She was a talented player with exceptional basketball instincts who helped the Rough Riders compile an incredible 112-4 record and win three Class AA state championships.
     Later as a collegian Kappel faced her greatest challenge. The inspirational manner in which she coped with a serious health issue made her a symbol of hope and courage recognized and admired nationally.
     Roosevelt won 97 percent of the 116 games it played with the 5-foot-7 Kappel in the starting lineup. She was all-state as a sophomore, junior and senior. The Rough Riders won state championships during each of those years. Roosevelt was ranked in the Top 25 nationally by USA TODAY when Kappel was a senior in the 1999 season. She averaged 13 points, four assists and three steals per game. Kappel was named the state's Miss Basketball and was chosen Player of the Year by the South Dakota Basketball Coaches Association, Gatorade and USA TODAY.
     A highlight occurred after the South Dakota season ended when Coach Fred Tibbetts took his Rough Riders to Beaverton, Ore., to participate in the Northwest Holiday Hoopfest. Roosevelt won the prestigious 16-team tournament. In the championship game Kappel and her teammates emerged 55-52 over California power Buena High School.
     Kappel earned 16 varsity letters at Roosevelt. She also competed in volleyball, helping the Rough Riders to a state title in 2000, as well as track and golf. And in the summer Kappel excelled in fastpitch softball. After receiving recruiting attention from a number of NCAA Division I basketball programs, Kappel chose Drake University.
     Early in her freshman season Kappel saw action for the Bulldogs in seven games before she was diagnosed with a brain tumor. Surgery was performed to remove the benign tumor. Kappel's resolve to return to the court was recognized when she received the honor of being among seven finalists nationally for the Jimmy V Foundation Comeback Athlete of the Year Award in 2002. She also received the Missouri Valley Conference Most Courageous Award in 2001. Her determination was rewarded when she once again started for the Bulldogs. In a Missouri Valley Conference victory over Indiana State in 2003 Kappel went 7-for-7 on 3-point goals and scored 29 points.
     In addition to her athletic achievements, Kappel was an exemplary student. She graduated with a perfect 4.0 grade-point average and No. 1 ranking in her class at Roosevelt. And at Drake she was an NCAA Women's Basketball Academic All-American. Kappel lives in Sioux Falls.