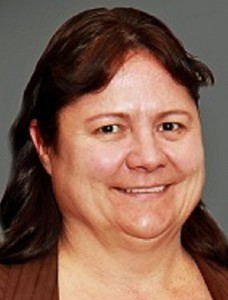 PINE RIDGE 'THORPES' – 1984
        Lolly Steele's impact in South Dakota girls basketball was not restricted by class. Whether the Thorpes competed in Class B or against larger Class A schools, Steele was equally as impressive.
        Pine Ridge High School advanced to the Class B state tournament in the 1981 and 1982 seasons. Steele's performance earned her a spot on the all-tourney team. Then in 1983 the Thorpes were moved up to Class A. They again reached the state tournament and Steele was again named all-tourney.
        Steele was a 5-foot-6 guard who had the ability to control games while playing for Coach Jesse Mendoza. She was an excellent ball handler and passer as well as a top-level scorer whose single-game high was 40 points.
        After totaling 1,680 career points, Steele was awarded all-state recognition as a senior. That season she was recognized as the Player of the Year in the state by the South Dakota Basketball Coaches Association.
        The prestigious Lakota Nation Invitational added a girls division in 1983 and Pine Ridge won the first championship. Steele sparked the Thorpes to the title and was named Most Valuable Player of the tournament. She later was inducted into the Lakota Nation Basketball Hall of Fame.
     Steele continued her excellence at Huron University. There she was a four-year regular and a team leader. Steele represented Huron on the all-South Dakota Intercollegiate Conference team and set a state women's college record when she made 20 free throws in a game. Steele ranked among the SDIC scoring leaders during her time at Huron. Her top effort as a collegian was a 44-point showing and she averaged 20 per game as a senior.
        Steele, who is a member of the Huron Hall of Fame, lives at Pine Ridge and is a seventh grade teacher. Children are David and Dusti.