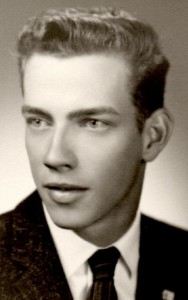 HAZEL 'MUSTANGS' – 1960
        Hazel High School built a sterling statewide basketball reputation behind the excellence of Jerry Buri. At the time of his graduation Buri had amassed 1,937 points and ranked among the Top 10 career scorers in South Dakota history.
        Buri was a 6-foot-3 forward. A strong rebounder, he averaged 24.5 points per game as a senior. Buri played for Coach Don Tobin and was named to the Class B all-state team. Buri was known for his leaping ability. His single-game high of 45 points came against Willow Lake in the 1959 district tournament.
        South Dakota State University was Buri's collegiate choice. As a junior during the 1963 season he played an important role on a team that was coached by Jim Iverson and occupies a special place in the proud history of Jackrabbits basketball.
        SDSU was champion of the North Central Conference and then won the Midwest Regional. That sent the Jackrabbits to the NCAA College Division National Tournament. After three more victories – over Fresno State 84-71, Southern Illinois 80-76 and Wittenburg (Ohio) 44-42 – the Jackrabbits were national champions. Buri was a key member of SDSU's rotation during his three seasons. The Jackrabbits were 49-21 in that span. Buri averaged 8.7 points and 5.9 rebounds per game as a senior in 1964 and shot 50 percent from the field.