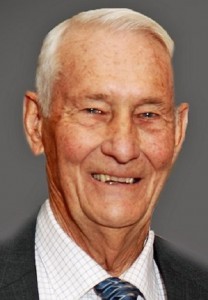 RELIANCE 'LONGHORNS' – 1956
        Reliance High School relied upon the scoring and rebounding prowess of Elton Byre to register a combined 57 victories during the 1955 and 1956 seasons.
        The Longhorns marched to a record of 29-3 when Byre was a junior. A year later he averaged 24 points per game as a senior. Reliance finished 28-2 that season as Byre reached 30 or more points in eight games. Byre totaled more than 1,200 points during those two seasons. In addition to being an explosive scorer for the Longhorns, he also excelled on the backboards. He set the Reliance school record when he grabbed 30 rebounds in a game.
     Darrel Cadwell was coach of the Longhorns during those years. He utilized the diverse talents of the 6-foot-3 Byre at both the center and forward positions. Byre also competed in track for Reliance.
     Byre continued his basketball career at Dakota Wesleyan University and during his four seasons as a starter he was a major contributor to the success achieved by Coach Jim Borsheim's Tigers. Dakota Wesleyan went 14-7 during Byre's freshman season in 1957. The Tigers then compiled records of 10-11, 17-6 and 15-6 over the next three years with Byre a mainstay in the lineup.
     Byre won a South Dakota Intercollegiate Conference scoring title when he averaged 19.6 points per game in 1959. He also was the league leader in free throws two years. During his time with the Tigers he scored 1,489 total points. His career average was 17.3 per game. He was selected to the all-SDIC team as a sophomore, junior and senior.
     After graduation Byre spent time as coach at Chamberlain High School and at Sioux Falls Washington before entering property management. He guided Chamberlain to its first Class A state tournament in history in 1965. Byre is a member of the DWU Hall of Fame and the SDIC Hall of Fame. His daughter JoElle (Byre) Benson, a former star at Washington and South Dakota State University, was inducted into the South Dakota High School Basketball Hall of Fame in 2011.
     Byre and his wife Jody live in Sioux Falls. Children are Jonn, JoElle, Kim and Lynette.