Wagner 'Red Raiders' – 1999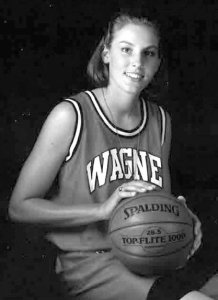 Mandy Koupal grew up in the Dante/Wagner area in southeast South Dakota. Many of her childhood days were spent on the farm helping her Dad and Grandpa Steve with the farm chores, but also being outside with her older brother, Michael. Many hours were spent playing sports whether it was football, baseball and of course, basketball. Growing up with an older brother who let her tag along with him and the boys on the playing fields as kids is a big reason why she became one of the best basketball players in Sough Dakota history. Being influenced by the competitive spirit of her older brother, younger sister and other family members, Mandy wanted to become the best basketball player she could be. This was evident in the countless hours she spent shooting hoops and working on her individual game in her dad's machine shed on the farm and out on the driveway. There were also many competitive basketball games in the Koupal driveway with the neighbor kids and then all the cousins and even the aunts and uncles at family gatherings.
During Mandy's high school career at Wagner, the Red Raiders went from winning one game her eighth grade year to making 3 straight Class A championship appearances her sophomore, junior and senior years. In her last two seasons the Red Raiders only lost 1 game (to Class AA powerhouse Sioux Falls Roosevelt) and won back to back state championships in 1997 & 1998. A natural scorer, Mandy finished her high school career with 2,065 points. She was a three-time All-State 1st team member, named the SD Gatorade Player of the Year in 1998 & 1999, was named the Player of the Year by the South Dakota High School Coaches Association in 1999, received the "Spirit of Su" award at the State A girls tournament her senior year, and was named South Dakota Miss Basketball in 1999. While maintaining a 3.9 GPA in high school, Mandy also participated in volleyball and track. She earned All-State honors in volleyball and was a state qualifier for high jump in her 5 track season (8th-12th grade) for the Red Raiders. Mandy won the event twice at the Class A State Track Meet and also received the Gold Medal Award for having the best jump of all 3 classed her sophomore and junior years. To conclude her high school career, Mandy was chosen to be a member of South Dakota's Elite 15 for the Class of 1999.
Mandy currently holds several national high school records in the National High School Sports Record Book (NFHS). She holds the national record for career field-goal shooting percentage, as she successfully converted 758 of her 1,097 attempts during her varsity career at Wagner for a remarkable 69.1 percent. In addition, she set the national record for single season field-goal shooting percentage when she made 223-of-292 attempts during her senior season for a blazing 76.4 percent. She also holds the number two spots with 75.3 (223-296) during her junior season. Mandy continued to excel on the basketball court at the collegiate level and ranks as one of the best players ever to wear a uniform at the University of South Dakota. She helped lead the Coyotes to a 71-22 record during the three seasons at South Dakota, including twice helping USD to NCAA Division II Playoffs and a share of the North Central Conference title in 2003.
Mandy was the only player in NCC history to earn three straight MVP honors and just the fifth player to be named All-NCC four times. In three years at USD, she compiled school-record 2,142 points and 1,027 rebounds in 93 career games. She owned the NCC records for points (1,352) and rebounds (696). Mandy finished her basketball career as a three-time All-American and two-time Academic All-American, the Daktronics Division II Player of the Year in 2003 and 2004, and a NCAA Division II State Farm/WBCA Player of the Year in 2004. At USD Mandy received her degree in elementary education with a 3.823 grade point average and was selected CoSIDA's (Sports Information Directors of America) Academic All-American of the Year.
Mandy currently lives in Fort Collins, Colorado. She is in her second year with the Rams at Colorado State as an assistant coach for the women's basketball program.