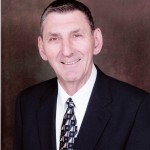 Milbank Bulldogs – 1954
Max was born on July 15,1936. He was one of the first big men to play the game of basketball in South Dakota. In 1953 Max was listed as a 6-5″ Junior in the Section 1 Basketball Program. Before he graduated from Milbank High School Max had grown to 6-7″ and was continuing to grow. As a junior in Milbank High School Max played well enough to beat the Watertown Arrows in the Section 1 Tournament. Then with his teammate Carl Johnson, who had transferred from Strandburg the same year, they defeated Sioux Falls Washington in the first game of the State "A" Tourney. They eventually lost to Aberdeen who went on to be the State Champions. Max scored 15 points against the Warriors and held the Warriors star, Dave Nold to 4 field goals. Max scored 20 points against the Golden Eagles in a losing cause. Milbank finished 3rd that year by defeating Huron in the 3rd place game. Max scored 53 points in those three tournament games and was a dominating rebounder and defensive star.
In 1954 Max led his team to a 21-3 season. Max averaged nearly 25 points per game and was a horse on the boards. He had now grown to 6-7″ and would add another inch the following year. That year Section 1 was loaded and Webster went to the State "A" tourney. Max deserves to be among the all time best post players to ever play the game and deserves to be called a Legend of the Game. Max Gozenbach will be inducted into the South Dakota High School Basketball Hall of Fame on 27 March 2010.