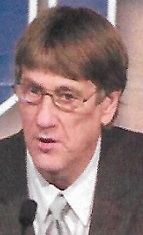 HURLEY "BULLDOGS" – 1970
     It didn't take long for Hurley's basketball opponents to recognize that Greg was a player to be aware of when they faced the Bulldogs.
      As a freshman, with Hurley going 20-5, he averaged 13 points and 13 rebounds per game. Greg progressed each season until as a senior he averaged 24 points and 21 rebounds with the Bulldogs finishing 24-5.
      Greg concluded his Hurley career with 1,989 points and 1,663 rebounds. His single-game highs were 62 points and 34 rebounds. Coached by Lowell Claussen, he was all-state two years. Greg also received all-conference recognition eight consecutive seasons, four as a Bulldog and four while playing collegiately for Dakota Wesleyan University.
      Recruited by colleges for both his football and basketball ability, Greg started each of DWU's 92 games during his four seasons and had career averages of 23.3 points, 11.4 rebounds and 3.3 assists per game. His season free throw accuracy of 92 percent is still a record at Wesleyan. The 6-foot-7 forward totaled 2,146 points and 1,047 rebounds for DWU playing for Gordon Fosness. He was captain of the Tigers as a junior and senior.
      Greg played on four conference championship teams, two at Hurley and two at Wesleyan, with guards Merle Reiners and Greg Farrar being his teammates in both high school and college. He was also inducted into the DWU Hall of Fame, the South Dakota Intercollegiate Conference Hall of Fame, and the South Dakota Sports Hall of Fame. Wesleyan began its basketball program in 1917 and Greg became only the third Tiger so honored when DWU retired his jersey No. 54.
      Greg lives in Sioux Falls. He and his wife Debra have three children: Tucker, Larissa and Brady. The South Dakota High School Basketball Hall of Fame is proud to induct Greg as a member of its Class of 2012.