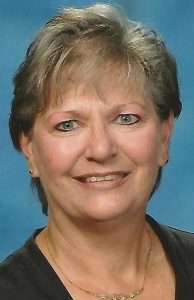 YANKTON 'GAZELLES' – 1978
     The impact of the Yankton High School Gazelles in the early years of South Dakota girls basketball cannot be overstated. During the first five Class A state tournaments – from 1975 through 1979 – the Gazelles won four championships.
     Dona Ray-Reed transferred from Vermillion, where she had starred for the Tanagers, to Yankton after her sophomore year. She then played a vital role in the Gazelles' dominance. A center with guard-like skills, Ray-Reed was 5-foot-10 and influenced games with her scoring and rebounding prowess as well as with intimidating defensive ability.
     Yankton was coached by Bob Winter and in those early years won state titles in 1975, 1977, 1978 and 1979. He had a 319-53 career record with the Gazelles from 1975-91. Ray-Reed averaged 17 points per game as a senior during the 1977 season when Yankton won the Eastern South Dakota Conference and carried an unbeaten record into the state tournament.
     The Gazelles used Ray-Reed's 23-point scoring to post a quarterfinal victory over Pierre. Then they downed previously undefeated Rapid City Stevens in the semifinals with Ray-Reed notching 27. That set up a title-game matchup against Mitchell. Ray-Reed had 16 points and 13 rebounds to lead Yankton past the Kernels 49-30. In the tourney she shot 55 percent from the field on 23-for-42 while totaling 66 points and grabbing 29 rebounds.
     Yankton finished the season with a perfect 22-0 record and Ray-Reed was recognized for her outstanding performance by being voted the tournament's Most Outstanding Player. After being named to the all-state team for a second time, Ray-Reed made her collegiate choice and decided to attend hometown Yankton College. There she became one of the greatest players in the history of the Lady Greyhounds. Her coach was Marty Wood.
     Ray-Reed was chosen to the all-South Dakota Intercollegiate Conference team three years. She averaged 21 points per game as a senior in 1983. A three-year member of the all-NAIA District 12 team, Ray-Reed was also crowned Miss Pioneer as the school's homecoming queen. She was inducted into the Yankton College Athletic Hall of Fame.
     Track was another sport in which Ray-Reed excelled. While attending Vermillion and Yankton she earned medals in four consecutive state meets. Specializing in the sprints and the jumping events, Ray-Reed recorded personal bests of 11.7 seconds in the 100-yard dash, 26.6 in the 220, and 17-4¼ in the long jump.
     Ray-Reed is a special education teacher at Norfolk High School. She and her husband Robin live in Pierce, Neb. Children are Tahnee, Bo, Connor and Timaree.