Arlington 'Cardinals' – 1969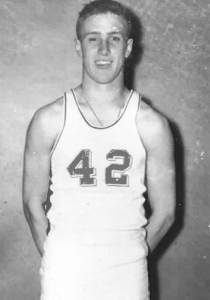 Rich Andrzejewski graduated from Arlington High School in 1969. He was a starter for the Cardinals 1968 State "B" championship team (28-1), and was selected as a member of the all-tourney team, along with the all-state team. As a senior, he was again a member of the all-state team and named honorable mention for the national Sunkist All-American Team. "Andy" started three years for the Cardinals as they went 49-5 his last two years on the varsity. The all-time leading scorer for Arlington basketball, lettered three times in football, four time in basketball and four times in track during his high school career. He was selected as a member of the Class "B" all decade basketball team for the 1960's. An Argus Leader "AA" all state football selection and honorable mention pick for the national Sunkist All- American football team. Andy also set the state high school high jump record, in addition to being an outstanding pitcher for the local American Legion team. He was the runner-up in the selection of the 1968 High School Athlete of the Year.
Andy's success in athletics continued at Northern State College with 16 varsity letters. As NSC's quarterback, kicker and punter, he held the state collegiate field goal record of 54 yard for many years, and it is still Northern's record. The 1971 NSC football team played in the national play-offs, plus Andy also played twice in the NAIA National Basketball Tournament. He scored 1091 points for Northern, finishing his career as the seventh all-time leading scored. Andy did this while being primarily known for his defensive abilities. He was a starting pitcher all four years for Northern's baseball team and qualified for the 1973 NAIA National Track meet after establishing NSC's high jump record of 6'6 3⁄4". In 1999 Andy was selected as Northern's All-Around Male Athlete of the Century.
Andy was South Dakota's Male College Athlete of the year in 1972, and has been inducted into the South Dakota Sports Hall of Fame, Northern State's Hall of Fame and the SDIC Hall of Fame. Andy is the only athlete in South Dakota collegiate sports history to win 16 major athletic letters. He retired from a sales/marketing position with Anheuser-Busch in 2009. He and his wife Mary currently reside in Aurora, CO. Rich spends his free time folding and watching his grandchildren participate in various sports.
"I believe that many people think my greatest achievement as a high school basketball player was being a starter/ all-tourney and all-state selection my junior year when Arlington won the 1968 State "B". However, I think my greatest achievement was encouraging my teammates, trying to help my teammates to continually improve themselves and play their very best each game. Arlington's record in 1965 was 0-19 when I was in eighth grade, but our 1968 Cardinal team was 28-1 with the sole loss being in double overtime at Sioux Valley (we beat the other three games that same season). Basketball is a team sport and I am very proud that our team achieved such great success.