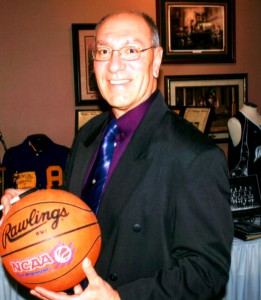 Terry DuPris was born in 1957 in Rapid City. He was raised on the Cheyenne River Sioux Reservation and attended Cheyenne Eagle Butte High School.
      Success on the basketball court came quickly for DuPris. He started playing organized basketball in the 5th grade and later played on the varsity as an 8th grader. He scored 920 points in grades 5 thru 8. DuPris finished his high school career with 2,323 points. That was without the 3-point shot. DuPris developed a great shot and was very smooth on his feet and had quick hands. His ball handling skills were excellent.
      In 1974 he was named to the all-state third team. In 1975 the Braves finished fifth in the Class B state tourney. DuPris was selected to the all-tourney team and the all-state team.
      In 1976 he was selected to the Class A first team after a very impressive year. He also received the South Dakota Indian Education Association President's Special Recognition Award in 1976. DuPris was a great scorer  and still holds many of the Cheyenne Eagle Butte scoring records.
      DuPris went on to play for the Huron College Tribe. He was chosen the state's College Athlete of the Year in 1980. He was the first South Dakota player to score over 2,000 points in both prep and college careers. In 1980 Dupris was drafted by the NBA Detroit Pistons.
      He was also chosen to the Huron College Hall of Fame, the South Dakota Intercollegiate Conference Hall of Fame, the Lakota Nation Basketball Hall of Fame and the South Dakota Sports Hall of Fame.