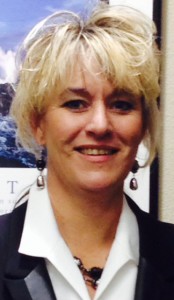 BENNETT COUNTY 'LADY WARRIORS' – 1987
        Chosen all-conference during each of her five seasons as a starter at Bennett County, Carla Allard-Watson scored 2,835 points for the Lady Warriors. That was the most in the history of South Dakota girls basketball at the time of her graduation.
        The Lady Warriors were championship caliber in a variety of sports. They earned state titles in basketball, volleyball and track behind the leadership of Allard-Watson.
       She was named to the all-state basketball team four years, was selected all-state in volleyball three years, and in track was a state champion in the 800 meters.
        Bennett County was coached by Bob Hopkins and won the Class A basketball championship during Allard-Watson's senior season in 1986.
       The Lady Warriors topped Tri-Valley 57-52 in the finals. Allard-Watson was a dominant presence and totaled a tournament record 95 points. She was selected to the all-tourney team four years.
        The 5-foot-11 center scored a single-game high of 59 points. During her final three seasons Allard-Watson achieved consecutive season point totals of 684, 642 and 735. She was named the state's co-Miss Basketball.
        Allard-Watson moved on to become a record setting four-year starter at National American University, then called National College, in Rapid City. While with the Lady Mavericks she played for Coach Kieran Huber and finished as the school's career scoring leader. She also was a standout on the volleyball team, earning four letters in both basketball and volleyball.
       Following her graduation Allard-Watson played basketball professionally in New Zealand. She was inducted into the NAU Hall of Fame.
      Allard-Watson is a program director for the Black Hills Special Services Cooperative. She and husband Kevin live in Rapid City. Children are KJ and Kyah.