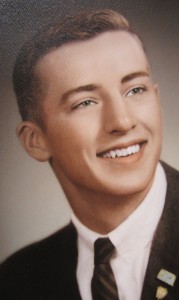 CANTON 'C-HAWKS' – 1966
        Extreme versatility was a John Eidsness trademark during his athletic career at Canton and South Dakota State University.
        Eidsness excelled in basketball, football, track and baseball as a C-Hawk. He then became a rare three-sport athlete as a collegian when he earned varsity letters at SDSU as a basketball guard, football quarterback and baseball shortstop.
        Canton claimed state titles in football and American Legion baseball with Eidsness contributing. A three-year football starter, he and the C-Hawks went 9-0 when he was a sophomore and 8-1 when he was a senior.
        In basketball the 6-foot guard led Canton in scoring each of his four seasons en route to a school career record 1,567 points. He averaged 14.8 per game as a freshman, 17.2 as a sophomore, 19.8 as a junior and 25.6 as a senior. Eidsness also finished with school records for career rebounds (602) as well as points in a game (42) and season (588). He set a single-season record for free throw accuracy when he converted 85 percent.
       The C-Hawks upset top-ranked Yankton 61-58 in the section finals when Eidsness was an all-state senior. Canton, coached by Arlo Mogck, went on to take fourth in the Class A state tournament and finish 15-8.
        Eidsness helped State secure consecutive North Central Conference basketball titles in 1968, 1969 and 1970. The Jackrabbits of Coach Jim Marking were regional champions during Eidsness' senior season when he averaged 16.3 points per game and was named to the all-NCC team. They lost to Tennessee State University by three points in the opening round of the national tournament.
        A successful basketball coaching career for Eidsness began as Marking's assistant at SDSU. He then was a head coach, first at Yankton College and then at Concordia (Minn.) College. He now is an American Family Insurance agent.
        Eidsness and his wife Denise live in Pelican Rapids, Minn. Children are Rick, Scott and Christy.