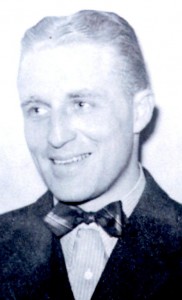 HURON 'TIGERS' – 1930
        Huron High School won two state championships with Conrad "Cornie" Collin in the lineup. And the Tigers made a determined bid for a national title.
        Collin was a freshman in 1927 when Huron marched into the finals of the single-class state tournament. The Tigers defeated Aberdeen 18-17 and thus earned an invitation to participate in the National Interscholastic Basketball Tournament in Chicago. Huron then beat state champions from South Carolina, Nebraska, Kentucky and Idaho. The Tigers lost in the semifinals 25-16 to Arkansas champion Batesville. Huron ultimately finished fourth and Collin was named to the all-tourney team. 
        Three years later Frank Coffey was still coach at Huron and guided the Tigers to the 1930 state championship with Collin setting the pace. Huron downed Yankton 17-13 in the finals. Collin also was a standout in football and baseball at Huron. And he was a state-champion sprinter in track.
     He became the first athlete in Creighton University history to captain the Bluejays in both football and basketball. He led NCAA football in punting during the 1932 season and he was named a basketball All-American the following winter. Collin was an all-Missouri Valley Conference forward twice for the basketball Bluejays of Coach Arthur Schabinger. Creighton's best season during Collin's career was 1932 when the Bluejays went 17-4 overall and won the MVC at 8-0. Also a two-time all-MVC halfback in football, a knee injury prevented Collin from playing either sport during his senior year at Creighton.
     Collin was a successful coach at Omaha South from his graduation in 1934 until his death in 1972. At different times he coached football, basketball and baseball. In basketball South went 400-225 with three state titles under Collin. Also a highly respected official who for many years worked major-college football and basketball games, Collin was inducted into the Creighton Hall of Fame and the South Dakota Sports Hall of Fame.
     Collin and his wife Ardith were the parents of a son James.