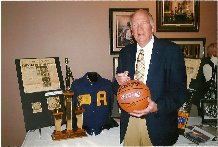 Aberdeen Central 'Golden Eagles' – 1961
Tom Malchow started playing YMCA basketball when he was in fifth grade in Aberdeen, S.D.  He was pretty tall for his age, but was clumsy and his game needed lot of improvements.  Eventually, Tom became of the best basketball player to come out of the tradition-rich Aberdeen Central High School.  He also became one of the best players of the early 1960's in South Dakota.
The Eagles made to the State 'A' Tournament in Malchow's three years (sophomore, junior and senior) as a starter from 1959 to 1961.  He missed the 1959 State 'A' Tournament due to an injury.  In 1960, Tom and his teammates won the State 'A' Consolation Championships.  He averaged 15 points per game for the Eagles and was selected to the All-Tournament team and second-team All-State player.
In 1961, Malchow's senior year, the Eagles captured the big prize as they won the State 'A' Tournament.  The Aberdeen Central boys' basketball team, coached by Lyle 'Bud' Belk, was voted the 1961 'Team of the Year' by the South Dakota Sportswriter Association.  Tom led the Eastern South Dakota Conference in scoring with 20.5 points per game.  He held the school record in a single season scoring with 406 total points (which has since been broken).    He was named to First Team (unanimous selection) All-State player and All-Tournament team.
Tom was selected as Mr. Basketball for the State of South Dakota in 1961.  He was named a top 500 player in the United State by Dell Sports Review in 1960.
After his graduation at Aberdeen Central High School, Tom continued his basketball playing career at St. Olaf College in Northfield, Minn.  He graduated from St. Olaf in 1965.
Tom was inducted in the Aberdeen Central Hall of Fame in 2008.  He is among only 15 athletes of the tradition-rich Aberdeen Central's history who are a part of an athletic portion thus far of this Hall of Fame.
Tom has owned and operated Malchow's Home Furnishings since 1969 in Aberdeen.  Tom has been married to his wife Becky for over 40 years.  They have four sons, which all graduated from Aberdeen Central High School.  He and Becky have six granddaughters.  The South Dakota High School Basketball Hall of Fame would like to congratulate Tom for becoming a member of the Hall of Fame!