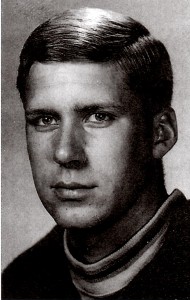 SISSETON 'REDMEN' – 1965
       The impressive basketball progress made by Guy Mackner turned him into one of the state's all-time greats. Mackner went from all-state at Sisseton High School … to all-North Central Conference at South Dakota State University … to NBA draft pick.
        Coach George Kjellsen guided Sisseton to the Class A state tournament in 1965. They used 21 rebounds and 11 points from the 6-foot-7 Mackner to beat Pierre 60-58 in the seventh-place game to finish with a 23-2 record.
        Mackner played for Coach Jim Marking at SDSU. The Jackrabbits won the NCC title in his junior and senior seasons. Mackner averaged 19.9 points and 11.6 rebounds per game during his junior year. State advanced to the NCAA College Division Great Lakes Region Tournament, where Mackner earned all-tourney honors, and had an overall record of 20-7.
        As a senior in 1969, when the Jackrabbits compiled an 18-6 record, Mackner scored 14.8 points per game. SDSU reached the Midwest Region Tournament. During his career Mackner had averages of 15.1 points and 8.8 rebounds per game. He totaled 1,114 points and 653 rebounds.
        Atlanta selected Mackner in the sixth round of the 1969 draft. He played for the Goodyear team in the U.S. Industrial League and then served in the U.S. Army where he was a member of the Armed Forces Basketball Team. Mackner was inducted into the Jackrabbit Sports Hall of Fame.