The Hall of Fame Class of 2020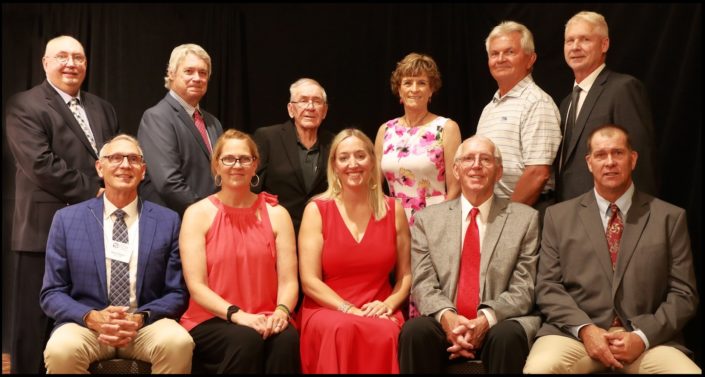 An appreciative crowd gathered at the Ramkota Hotel in Sioux Falls on Aug. 28, 2021, to honor members of the Class of 2020 as they were inducted into the South Dakota High School Basketball Hall of Fame. Thirteen former greats were honored during the 11th annual induction ceremony and banquet. They bring Hall of Fame membership to 171.
     The Class of 2020 is pictured above at the banquet. From left, front, Dave Thomas, Sarah Mannes Homstad, Jayne (Even) Gust, Jerry Even, and Bart Uhlir representing the late Stanton Uhlir. Back, Dennis Womeldorf, David Perrin representing the late Sam Perrin, Arlo Mogck, Janel Birrenkott, Dick Thornton representing the late Loren Thornton, and Bob Pidde. Not pictured: Austin Hansen and Joe Krabbenhoft. (John Simko Photo)
     Plaques recognizing the Class of 2020 will be displayed in the Hall of Fame area of the Sanford Pentagon.
     In the weeks ahead, the Hall of Fame's board of directors will be involved in the important process of evaluating nominees for next year's class of inductees. Those selected for induction will be announced this winter. To see a list of the selection criteria, and to download an official nomination form, click on Nomination Form on this website.