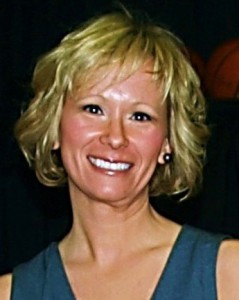 Newell 'Irrigators' – 1994
As the eldest of three sisters who would leave Newell to make their marks in NCAA Division I, the 5-foot-8 Courtney was a basketball trailblazer.
Newell compiled a 24-1 record in Courtney's senior season and advanced to the State Class A Tournament for the first time. Coached by Randy Faeth, the Irrigators finished third. A dynamic scorer, Courtney completed her Newell career with 2,091 points. She was a two-time member of the all-state team and was named Miss Basketball of South Dakota.
Courtney received honors from several high school All-America teams and was recognized as South Dakota's player of the year for 1993 by Gatorade, USA TODAY and the South Dakota Coaches Association.
Her next challenge came at the University of Wyoming. Courtney responded by earning four letters and posting a double-figure scoring average during three of her four seasons. Her career average as a Cowgirl was 13.3 points per game.
Courtney earned all-Western Athletic Conference honors in her junior and senior seasons of 1997 and 1998. She averaged 17.6 points per game as a senior and completed her Wyoming career with a total of 1,278 points. Courtney ranks 12th in Cowgirl history in scoring and is fourth in 3-point field goals made with 183.
During her final two seasons at Wyoming, playing for Chad Lavin, a native of Clear Lake, she was joined as a Cowgirl by her sister Taran. After graduating, Courtney returned to Newell where she coached her youngest sister, Jordan, who went on to play at Jacksonville State University.
Courtney now lives in Rapid City. She and her husband Paul have one child: Cael. The South Dakota High School Basketball Hall of Fame is proud to induct Courtney as a member of its Class of 2012.