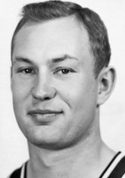 PLATTE "BLACK PANTHERS" – 1948
      Jim Iverson was one of the few players to compete in four Class B state tournaments. He was a guard for the Black Panthers. Iverson was named all-tourney each year during an era when South Dakota did not select an all-state team.
      Platte came into the 1946 state tournament undefeated at 22-0. The Black Panthers lost to Webster 45-44 on a half-court shot by Lefty Engebritson as time ran out. It was among the best remembered games in tourney history.
      Iverson was known for his great speed and good shooting. He was named by Sports Illustrated  as one of the top 50 athletes ever in South Dakota. He was a three-year letterman at Kansas State University and was drafted in the second round by the Boston Celtics in 1952 although he never played in the NBA.
      A highly successful coach, he had an overall 142-65 career record during nine seasons at South Dakota State University. His Jackrabbits won the NCAA College Division championship in 1963. He coached SDSU to five North Central Conference titles. After leaving coaching Iverson had a long career in banking and lived in Sioux Falls.