Hitchcock 'Bluejays' – 1958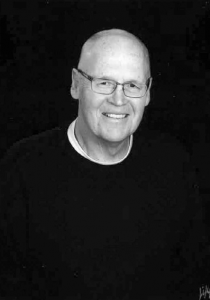 Phil was born on February 29,1940 (Leap Year) to Ed and Phyllis Miedema in Huron, South Dakota. The family would move to a farm near Hitchcock,South Dakota.Phil would attend country school for 8 years,so his first real basketball experience came as a freshman at Hitchcock,High School. He would fall in love with the game of basketball and by mid-season he was starting on the varsity.
The fans at Hitchhock would soon realize that the 6-4 inch Miedema was going to be a star on the court. In fact he would score 2,040 points for the Bluejays over the four years.In 1957 & 1958 he was chosen to the All-State First Team. Hitchcock would win the Conference and District Tournament three years in a row, but failed to make the Big B Tourney. This would be Phil's only regret as a player.
After high school Phil would attend Augustana College in Sioux Falls,South Dakota.There he was selected to the All-North Central Conference twice. He would shoot 57% from the field and 83% from the free throw line. In 1962 Augie would win the North Central Conference in Basketball. The most important event to happen at Augie to Phil was to meet his wife of 53 years,Carol. Carol would have the chance to watch Phil play Independent Basketball for Traub Silo of Sioux Falls. This was a dominate team in the 1960s and 1970s. Phil would play Basketball for another 40 years on YMCA and Independent teams across South Dakota. He played in two Senior Olympic Events and over 2000 games. Phil has really enjoyed the game of Basketball and still has his own knees and they work.
Phil and Carol took jobs teaching Physical Education and coaching in the Sioux Falls school system. They have two wonderful children,Chris and Aaron who are both teachers. After coaching and teaching for 37 years , Phil and Carol are retired and still live in Sioux Falls,SD. We are so proud of both of you for all your accomplishments over the years. We proudly induct Phil Miedema into the South Dakota High School Basketball Hall of Fame this March 29,2014.