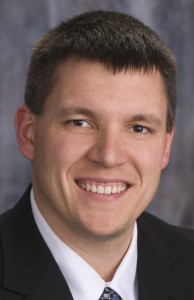 ALPENA 'WILDCATS' – 2001
        Superior consistency was a trademark of Matt Jones' game when he was an all-state player as a junior and senior.
        The graduate of Alpena High School started his career as a Wildcat. Later the Alpena and Wessington Springs schools decided to co-op in basketball and the team was known as the Wild Spartans.
        Jones was a strong and athletic 6-foot-6 center. As a junior he led Alpena-Wessington Springs to a 14-6 record. His averages were 26.9 points and 13.3 rebounds per game. Then during his senior season he averaged an almost identical 26.8 points per game along with 15.5 rebounds. He also contributed 4.3 blocks per game as the Wild Spartans finished 18-2.
        Jones had 1,537 career points with 795 rebounds and 163 blocks. His last three years his teams went 47-14. His coaches were Jim Noyes and Kamden Miller. Baseball and track were other sports in which Jones stood out. He won back-to-back state titles in the discus for Alpena when he threw 157-0 in the state meet as a junior and 161-4 as a senior.
        Jones moved on to South Dakota State University. He was chosen as the Freshman of the Year in the North Central Conference in 2002. That season the Jackrabbits of Coach Scott Nagy won the NCC championship. SDSU wound up 24-6. The type of valuable contribution made by Jones was demonstrated in an important late-season game against St. Cloud State. SDSU emerged with a 90-82 victory as Jones led the way with 20 points and 12 rebounds.
        For the season he averaged 14.8 points and 8.6 rebounds per game. He converted 65 percent of his field goal attempts. Jones was named to the all-NCC team. He set Jackrabbits records for most points (444) and most rebounds (260) by a freshman. It was the only complete season Jones would play as a collegian due to health reasons.
        Jones is a chiropractor. He and his wife Katie live in Brookings. Children are Hayden, Bristol and Kamden.