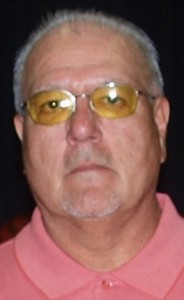 CHEYENNE-EAGLE BUTTE 'BRAVES' – 1971
At all levels of basketball Jesse has made a habit of winning.
As a high school player, college player and high school coach, he has been a prominent component of outstanding teams. Along the way Jesse has experienced a number of championships.
Cheyenne-Eagle Butte won Region 8 titles during Jesse's junior and senior seasons to reach the State Class B Tournament. He was all-state both years. The Braves were coached by Dick Baysinger and Jerry Gipp.
During the 1971 state tourney Jesse netted 91 points. In that year's all-state story The Associated Press wrote: "Mendoza, who was the leading scorer in the 'B' tournament, is a sharpshooting jumping jack who led his team all year. Able to work under the basket, drive or shoot from long range, he was one of the toughest players in the state to defend against."
Jesse next put his skills on display for Huron College. During his four seasons with the Tribe the 6-foot guard emerged as a defensive stopper. Jesse helped Huron to two South Dakota Intercollegiate Conference titles.
Huron advanced to the NAIA National Tournament during Jesse's junior season in 1974. Coach Bob Swanhorst's Tribe held off Western Montana 76-71 in the finals of the District 12 Playoffs. Huron then was halted by West Georgia in the nationals to finish with a 21-8 record.
Jesse has coached many outstanding teams. Several years ago the Sioux Falls Argus Leader asked a panel of longtime South Dakota basketball experts to rank the 20 greatest teams in state history. The 1987 Pine Ridge Thorpes, coached by Jesse to a 26-0 record and Class A state title, were rated 11th. Jesse was inducted into the South Dakota Basketball Coaches Association Hall of Fame and the Lakota Nation Invitational Hall of Fame.
Jesse lives in Eagle Butte. The South Dakota High School Basketball Hall of Fame is proud to induct Jesse as a member of its Class of 2012.