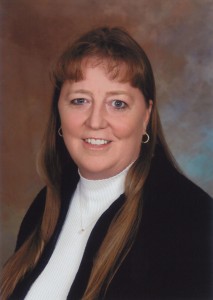 Hamlin 'Chargers' – 1983
Karla learned about the game in Hamlin County, one of the most tradition-rich basketball areas of South Dakota, and those lessons served her well during an outstanding career.
Wayne Carney and Larry Goebel were Karla's coaches during four seasons playing for Hamlin. In her final three years Karla and the Chargers constructed an impressive 55-7 record.
Karla was a 5-foot-7 forward who made her presence felt on the court in a variety of different ways. She was a talented offensive player who could take over a game with her scoring. But she also could dominate through her rebounding and with her defense. Karla averaged 25 points and 11 rebounds per game as a Hamlin senior when she was named to the all-state team. Her career scoring total for the Chargers was 1,242 points.
After finishing her career as a high school player Karla next set her sights on the collegiate North Central Conference when she enrolled at South Dakota State University.
Playing for Mary Ingram and Nancy Neiber during her time with the Jackrabbits, she appeared in 106 games over four years and totaled 1,562 points. She had career averages of 14.7 points and 6.4 rebounds per game. As a senior Karla averaged 22.3 points a game in 1987.
A two-year selection on the all-NCC team as a junior and senior, Karla set an SDSU single-game scoring record when she tallied 39 points. She also showed her versatility by earning two letters in softball for the Jackrabbits. Karla was named South Dakota College Female Athlete of the Year in 1987.
Karla lives in Brookings. The South Dakota High School Basketball Hall of Fame is proud to induct Karla as a member of its Class of 2012.