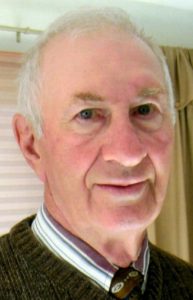 YALE 'TROJANS' – 1958
     The thrill of athletic competition gripped Howie Bich at a young age and has never subsided. Bich was an all-state basketball player at Yale High School who went on to help Augustana University win a North Central Conference championship. And for many years he ranked among the state's finest baseball players. When most athletes reach the age of stepping away from sports as active participants, Bich was just getting warmed up. In the past several decades he has been a central figure in the South Dakota Senior Games and has finished more than 200 triathlons.
     Yale was outstanding during Bich's junior and senior seasons with LaVerne Tollefson as coach. The Trojans had a 28-5 record in 1957 as Bich scored 18 points per game. They finished 24-7 in 1958 when Bich averaged 24 points. Bich captained the Trojans and was all-state two times. He earned varsity letters all four years in basketball, averaging 12 points per game as a sophomore. He also earned four letters in track and helped Yale to the Class B state title in 1957.
     Augustana had not won a conference basketball title since 1937 when the Vikings claimed the NCC title in 1962. Bich was a 5-foot-11 senior guard whose primary role was as a passer and a dependable ball-handler who could beat an opponent's full-court press. Ole Odney was coach of the Vikings. They ended with an 8-4 conference record and were 13-8 overall. Bich averaged 12 points and shot 82 percent on free throws.
     Baseball also entered Bich's life at an early age. He joined the Yale amateur team when he was only an eighth-grader and continued to play amateur baseball past age 57. Since then he has represented South Dakota in seven National Senior Games Basketball Tournaments as well as many Senior Baseball Tournaments. While at Augustana the shortstop/second baseman had season batting averages of .371 and .395 playing for Coach Ken Kessinger. Bich was chosen as a member of the all-NCC team as a senior.
     Following his Augustana graduation Bich spent 40 years in education serving students as a teacher and coach. Thirty-two of those years were at Wagner. He guided the Red Raiders to more than 275 victories in basketball and was also successful as a track coach. The stadium in Wagner was named in his honor. Bich was inducted into the Augustana Athletic Hall of Fame, the South Dakota Amateur Baseball Hall of Fame and the South Dakota Senior Games Hall of Fame. He now serves as the Executive Director of the South Dakota Senior Games Organization. Bich and his wife Arlene live in Sioux Falls. Children are Brian, Mieka and Darya.