Yankton Gazelles – 1980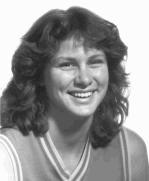 Lisa was born on December 13, 1961 in Yankton, SD. and graduated from Yankton High School in 1980. Lisa stood 6-3 and played the center position for Yankton High School. They were called the Gazelles. Lisa was part of three straight South Dakota Class "A" Girls Basketball Championships. She was a first team All State selection in her junior and senior year. Her senior year in 1980, Lisa was named to various High School All-American Teams.
Lisa signed a letter of intent in May 1980 to play basketball at the University of Colorado after considering many other schools in the Big Eight Conference. Lisa continued her great play at CU were she was a leader in block shots, scoring and rebounding. She was indeed one of South Dakotas best High School Basketball Players in the 1970-1980s. Lisa Van Goor will be inducted into the South Dakota High School Basketball Hall of Fame on 27 March 2010.