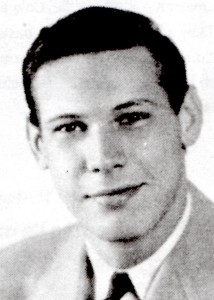 SIOUX FALLS WASHINGTON 'WARRIORS' – 1943
Harry "Bud" Carleton played basketball for the Sioux Falls Washington Warriors from 1941-1943 under the guidance of the legendary Coach Howard Wood. "Big" Bud Carleton stood 6'3″ and weighed 200 pounds. Playing center or guard equally well, Bud was known for his aggressive play around the basket and expert shooting ability. Often leading his team in scoring from his guard position, he was speedy enough to play center or forward if needed and was usually asked to defend the opponents best player.
The 1941 basketball team might well be considered the "comebackest" team in Washington High School History. Struggling thru a 7-7 win loss season and placing 5th in the ESD race, the Warriors edged Madison and Yankton to qualify for the state tournament. Only four teams, Sioux Falls, Rapid City, Aberdeen and Mitchell,were entered in the tournament that year. The underdog Warriors defeated both Mitchell and Rapid City Central to win the state title.
The 1942 basketball team recorded a 14-5 season claiming a first place tie in the ESD. The Warriors breezed through the Regional. After defeating Mitchell in the tourney opener, the Warriors fell to Rapid City 29-24, Rapid went on to win the state title. Coach Wood appointed Bud Carleton as the team Captain for the 1942 season.
In 1943 Harry " Bud" Carleton led the Warriors to another state tournament championship with a record of 21 wins and only 1 loss. They also won the ESD and again Harry "Bud" Carleton was the honorary captain selected by his teammates. Teammate Ken Kessinger feels that Harry was the best athlete in the class of 1943. Bud was the first player in Washington High School to play on two state championship basketball teams. Bud was also a great football player for Washington High, there record was 23-2 over the three period. his playing career was then interrupted  when Bud joined the United States Navy. Bud returned home in 1946 and enrolled at the University of South Dakota. After graduation Harry Bud Carleton worked as an Industrial Engineer for John Morrell and Company in Sioux Falls, SD.
In 1997 Bud was elected to the Washington High School Hall of Fame. Bud is widowed, has two children, four grandchildren and still lives in Sioux Falls. Now nearly 60 years after your outstanding career we are proud to induct you into the South Dakota High School Basketball Hall of Fame. Congratulations!