Harrold 'Cardinals' – 1951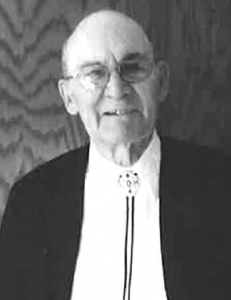 Lien Charles Marso was born in 1932 in Harrold, SD. He grew up in Harrold and attended all 12 years of school there. He loved sports and only track and basketball were offered at that time. He played basketball in grade school and went on to play all four years of high school. In 1951, his senior year, the team won the SD Class B basketball tournament in Mitchell, Lien was the tallest member on their team at 5' 11" and therefore the "center" on their team. In track, he had the distinction of holding a record in the hundred yard dash for many years at Howard Wood Field.
In the summers, he would play baseball with Harrolds independent team. At one time, he pitched and his father was the catcher. He went on to play basketball and baseball at SDSU in his freshman and sophomore years under Coaches Irv Heiter and Jack Frost.
In 1954, he was drafted into the army and served in the Signal Corp. while stationed in Ft. Ord, California, among his other duties, he managed to play baseball for the Signal Corp team.
After his discharge in 1956, he married Bettie Galinat and worked for John Deere in Highmore, SD. They have 3 children, Terry Marso, LeAnn (Marso) Caulfield and Leisa (Marso) Reeve. He played independent basketball and baseball for Highmore in the following 10 years.
In 1966, they moved to Watertown, SD to work for John Deere at Codington Co. Imp. His pastimes include basketball, bowling, golfing and baseball. He retired in 1997, having worked for John Deere Co. for almost 50 years. He made many friends and acquaintances through work and the sports he loved so much.
After retirement, they traveled the US in a 5th wheel for four years. Now they are at home in an apartment in Watertown.