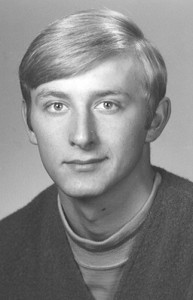 BROOKINGS 'BOBCATS' – 1969
       To make the journey from high school standout to college star, Lee Colburn only had to travel across town.
        Brookings reached the championship games of the Class A state tournament when Colburn was both a junior and senior. The Bobcats beat Sioux Falls Lincoln 69-57 to win the title in 1968 under Coach Ken Thury. The following year they fell to Rapid City Central 57-50 in the finals.
        Colburn was a skilled wide receiver in football for Brookings but it was in basketball where his talents drew the most attention. He was all-state in his final two seasons and set a school single-game scoring record with 38 points. He became a recruiting target for such major colleges as the University of Washington, Kansas State and the University of Nebraska.
        But he chose to remain at home and continue his career at South Dakota State University. There under Coach Jim Marking he distinguished himself as one of the school's all-time greatest players.
        State marched to North Central Conference championships with Colburn in the lineup in 1970 and 1973. The 6-foot-6 forward was selected to the all-NCC team three years. As a senior in 1973 he averaged 21.6 points and 10 rebounds per game for the Jackrabbits and was the NCC scoring champion at 23.3 points per game in league play.
       Known for his quickness and exceptional body control, Colburn finished his SDSU career with 1,822 points and 837 rebounds. He was the third player selected by Houston in the 1973 National Basketball Association draft. He was chosen in the fourth round (the Rockets had no second round pick due to a trade) and played professionally in Belgium.
      Colburn was inducted into the Jackrabbit Sports Hall of Fame and the South Dakota Sports Hall of Fame.
      Colburn was a Sioux Falls businessman and a resident of Brandon. He was 47 at the time of his death as the result of an auto accident near Dell Rapids on Dec. 31, 1997. He was preceded in death by his wife Connie. He was survived by his daughter Christina and wife Karen.