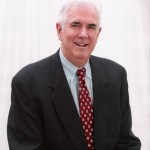 Thomas "Tom" McGrann
Watertown High School – Watertown Arrows -1957-1959
Thomas "Tom" McGrann started playing basketball at the Immaculate Conception Grade school in Watertown in the early 1950's. Their team had some excellent talent which would soon be noticed by the Watertown Arrow coaching staff.  Tom and his teammates enrolled in the Watertown Public School in 1957 and in just a couple of years they were a dominating force in the ESD. The Arrows won the ESD conference championship in 1959.  Tom was a 6′ 8″ left handed center for the Arrows.  He had excellent shooting and rebounding skills.  He was the leading scorer in the ESD in his Junior and Senior years, averaging slightly over 22 points per game his senior year.  He and his teammates won the 1959 State "A" Tournament. Tom scored 32 points in the Championship game against Lead which was a single game record which stood until 1989.  Tom was named to the the State "A" All Tournament teams in 1958 ( a year in which the Arrows lost in the finals to the Huron Tigers) and 1959 as well as being named to the South Dakota State "A" All-State first teams in both 1958 and 1959.  Toward the end of the year in 1959 McGrann was named the "High School Player of the Year"  and the Watertown Arrows boys' basketball team was named "High School Team of the Year"  by the South Dakota sports writers.
In May of 1959 the "Senior Scholastic" magazine named Tom to their 1959 All-American High School basketball team along with 29  players from 19 other sta
tes.  Tom was also chosen that year by the sports writers and sports broadcasters of the Mid-West along with 19 other high school seniors to play in the Wigwam Wisemen Club of America's "Third Annual High School World Series of Basketball" which was played in Hutchinson, Kansas on June 3,4 and 5 of 1959.
After receiving mail from dozens of college coaches, including seventeen who tendered scholarship offers, Tom went on the play for the University of Minnesota where he was a three year starter.  Tom was an outstanding post-player with excellent coordination and defensive skills.
Tom McGrann was inducted into the Watertown High School Athletic Hall of Fame when it opened  for the first time on September 27, 1997.   On March 20, 1999, Tom was inducted into the South Dakota Sports Hall of Fame in Sioux Falls.  Tom McGrann will be inducted into the South Dakota High School  Basketball Hall of Fame on 27 March 2010.

Steve B. Brown
Hamlin Chargers – Hayti, South Dakota 1970-1974
We may want to look back just a few years to the days when an entire county (Hamlin County) caught the "Basketball Fever". This is one county which was hit very hard and it lasted for many years. The fever effected kids and parents alike. It went from Hazel to Thomas and Hayti to Bryant. It consumed communities in many different ways. People would drive for miles to watch the players, who seem to have been hit the hardest by the fever. In this case it was Steve B. Brown who thrilled basketball fans with his outside shooting and his speed. He was part of the 1974 State "B" Championship team at Hamlin County. Steve was first Team All State his Jr. and Senior years. He averaged 33 points per game his Senior year, scoring an amazing 50 points in the 1974 State "B" Semifinals. Steve compiled 1800 points in two years at Hamlin County. At 5-10 he was very quick and could flat out shoot the basketball. Steve has been selected to the South Dakota High School Basketball Hall of Fame simply because he was one of the best shooters and players ever to come out of Hamlin County and maybe the state of South Dakota. Steve W. Brown will be inducted into the South Dakota High School Basketball Hall of Fame on 27 March 2010.