DELL RAPIDS ST. MARY'S 'CARDINALS' – 1941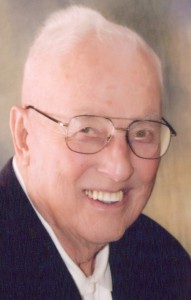 James "Sunny Jim" Schmidt (12-04-1921 — 07-18-2010) was a star athlete for St. Mary's of Dell Rapids. St. Mary's was a member of the Catholic School league that held its own state tournament. Schmidt was named all-tournament all four years. In 114 career games he averaged 13 points per game in an era when winning teams rarely scored more than 40.
      During his senior year the Cardinals went 31-2, losing to Holy Rosary Mission in the semifinals and defeating Sioux Falls Cathedral for third place. Holy Rosary lost to St. Francis in the finals. Those teams were invited to the National Catholic Tournament in Chicago.
      Schmidt enrolled at South Dakota State University. As a sophomore he was all-North Central Conference. Schmidt then enlisted in the Marines and was sent to Northwestern University to become a communications specialist. He became a starter on their team. Toward the end of the season he was transferred to Penn State where he also made that team. After the war Captain Schmidt returned to State in 1946. As a junior he was leading scorer and all-conference. As a senior he was leading scorer and Most Valuable Player in the NCC.
      Schmidt played with the Minneapolis Lakers of the fledgling NBA, and various AAU teams, including the national champion Peoria Caterpillars. He was called back into the Marines during the Korean Conflict where he played and helped coach Quantico to the all-Marine championship in 1952.