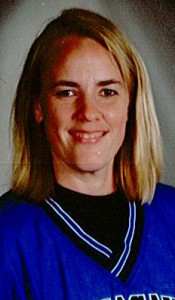 LANGFORD 'LIONS' – 1991
        Winning with remarkable consistency defined the basketball career of Julie (Jensen) Rozell.
        Langford advanced to the Class B state girls tournament during each of Rozell's four seasons in high school. The combined record of the Lions during that impressive run was 94-9.
        Rozell then was instrumental in Northern State University winning two NAIA Division II national championships. Included was a 32-1 season when she was a junior in 1994 and had averages of 15.2 points, eight rebounds and four assists per game. The Wolves also claimed three Northern Sun Intercollegiate Conference titles with Rozell at the forefront.
        Langford had consecutive finishes in the state tourney of fifth, third, second and second. The Lions lost in the championship game to Wakonda in both 1989 and 1990. As an all-state senior, playing for Coach Byron Utter, the 5-foot-11 Rozell averaged 28.2 points and 12 rebounds.
        Rozell ended her Northern career as the school's all-time scoring leader with 2,058 points. She totaled 1,007 rebounds and also handed out 363 assists and made 172 steals. The Wolves went a stunning 118-15 overall for Coach Curt Fredrickson during Rozell's four seasons.
       Northern also won the NAIA Division II national title when Rozell was a freshman in 1992 with a record of 30-4. The Wolves finished second in 1993. They also reached the national tournament when Rozell was a senior in 1995 and lost to Western Oregon in the quarterfinals.
        Three times Rozell, a forward, was named to the all-NSIC team. She was also recognized as the Most Valuable Player in the conference as a junior and senior. Rozell was inducted into the Northern Hall of Fame and the NSIC Hall of Fame.
        Rozell is a physical education instructor and with husband Mark lives in Redfield. Children are Sarah, Drew, Addie and Kaitlyn.