Holly (Sivesind) Borchers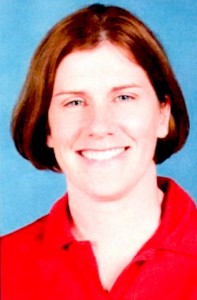 ROOSEVELT 'ROUGH RIDERS' – 1993
      The presence of Holly (Sivesind) Borchers on a basketball court served as a catalyst in making the teammates around her better.
      Borchers was a talented scorer, as evidenced by her 25.8 points per game as a senior at Sioux Falls Roosevelt High School, but she was at her best when she was distributing the ball. During her collegiate career at Creighton University, the 5-foot-9 guard led the Bluejays in assists during her sophomore, junior and senior seasons. Her career total of 408 was the most in school history.
      Borchers played two years at Washington before moving across town to Roosevelt for her final two seasons. She participated in four Class AA state girls tournaments and was named to the all-state team three times. Her coaches were Rick Brommer and Deanna Hansen.
      As a senior Borchers had a streak of 33 straight made free throws. She went 16-for-16 against Rapid City Central and had a triple-double with 42 points, 10 rebounds and 10 steals. Roosevelt reached the championship game of the state tournament in 1992. The Rough Riders fell to Mitchell 52-43 and finished 20-3.
      Borchers was named Miss Basketball in South Dakota as a senior and was selected Player of the Year by the South Dakota Basketball Coaches Association. She concluded her career with 1,484 points. She was also a strong defender, averaging 4.8 steals per game as a senior and totaling 324 in her career.
      The following season Borchers adapted quickly to the college game. She was voted Freshman of the Year in the Missouri Valley Conference after helping Creighton go 24-7. Borchers started 101 of the 106 games she played for the Bluejays and had career averages of 11.8 points and 3.8 assists per game. Borchers totaled 1,250 points at Creighton and was all-MVC once. She also had 393 rebounds and 180 steals while playing for Coach Connie Yori. She still ranks in the Top 10 career lists for the Bluejays in assists, 3-point goals (174) and free throw accuracy (79.7 percent).
      A former coach at Creighton, Florida Southern College and Roosevelt, Borchers and her husband Dean live in Sioux Falls. Children are Vance, Seth, Aaron and Riley.