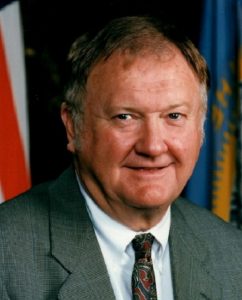 MURDO 'COYOTES' – 1955
     When the pressure was greatest, and Murdo High School needed a steady hand controlling the basketball, Frank Brost was ready and able.
     An example of his poise and keen decision-making was on display in the State Class B Tournament in 1954.
     The Coyotes played Provo in the quarterfinals and found themselves facing a big 36-21 deficit at halftime. A determined rally by Murdo was aided by Brost, who scored 19 points and was credited for timely passing and rebounding. The Coyotes battled back but narrowly lost 65-62.
     Murdo, playing in its first state tournament since 1937, regrouped and defeated Highmore 76-61 on Day 2. In the fifth-place game the Coyotes met Claremont. And as in the quarterfinals, Murdo fell behind, trailing 40-28 in the third quarter. Brost then sparked a stirring comeback that resulted in a 61-57 victory. He notched a game-high 25 points.
     Brost was a junior guard who totaled 60 points in the tourney. For the season he averaged 21 per game directing the attack for Coach Lowell Bell, who cited Brost's leadership ability as an important factor in his team's success.
     The Mitchell Daily Republic referred to Brost and senior center Maury Haugland as the 'Gold Dust Twins.' Together they paced the Coyotes to a record of 30-2. The 6-foot-2 Brost was a mainstay in Murdo's starting lineup for four years. In addition to their 30-win season when he was a junior, the Coyotes went 21-5 during Brost's sophomore year and 24-3 when he was a senior in 1955.
     The first-ever South Dakota all-state team was selected in 1955. Prior to that there was only an all-tourney team for players whose teams were fortunate enough to reach the state tournament. Brost was selected as a member of the all-state team after netting 25 points per game during his senior season. For his career he scored more than 1,500 points.
     Those who joined Brost on that historic first annual Class B all-state first team were Gib Burnette of White River, Garney Henley of Hayti, Harry Marske of Andover, LaRue Martin of Selby, Marv Rasmussen of Claremont, Merlyn Smith of Avon, Marvin Speck of Gann Valley, Don Walder of Hayti and Harley Zephier of Dupree.
     Also a standout football player, Brost was a four-year starter in that sport for the Coyotes. And he excelled in track where he was a state-place winner in the high hurdles.
     Brost attended the University of South Dakota. He graduated in 1959 and went on to a career as an attorney and rancher while also serving South Dakota in state government. Now retired Brost and his wife Martha live in Sioux Falls. Children are John, Kurt and Mark.