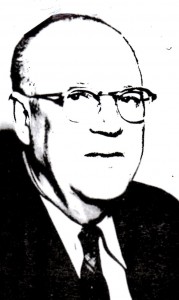 ELKTON 'ELKS' – 1920
          Elkton was a small town with a big reputation in basketball because of Leonard "Jimmy" Lovley.
         By the time Lovley was a junior, Elkton was known as a team of exceptional prowess. The Elks were so powerful that they crushed Mitchell 42-6 in the championship game of the 1919 state tournament.
         It was an era in which South Dakota had only one class. So the Elks often competed against much larger schools. Elkton repeated as state champion behind Coach Thomas Thompson when Lovley was a senior. That year the Elks downed Madison 31-20 in the title game.
         Elkton's dominance was made even more impressive by the fact that the Elks used an unheated opera house as their home gym.
        After graduation Lovley enrolled at Creighton University. He became the first two-year captain and the first All-American in school history, an honor he earned as both a junior and senior. Creighton compiled records of 13-6, 23-5, 14-5 and 15-2 during his career for a combined mark of 65-18.
         In his senior season the nation took notice of the Bluejays. That year the 6-foot-2 Lovley sparked Creighton to wins over such basketball luminaries as Indiana, Iowa, Michigan State, Marquette and Notre Dame.
        Creighton's 1924 yearbook offered a special tribute to Lovley in the vernacular of the time. The passage read in part: "He is classed as one of the best forwards in the country. Lovley was noted for his clever floor work and uncanny basket throwing. Despite the fact that he was a marked man, he scored heavily in every game."
       He became the only South Dakotan so honored when he was inducted into the prestigious Helms Foundation Basketball Hall of Fame in 1957. Lovley also was inducted into the Creighton Hall of Fame and the South Dakota Sports Hall of Fame. Lovley became a dentist and with wife Ellen spent many years in Verdigre, Neb. He was 77 when he died Dec. 31, 1977.