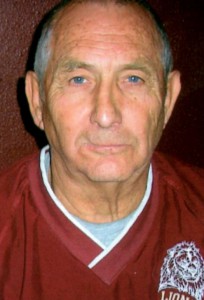 CLAREMONT 'HONKERS' – 1955
        An historic level of success was achieved by Claremont during the time Marv Rasmussen excelled for the Honkers.
        Claremont fielded outstanding basketball teams built around the 6-foot-3 forward. The Honkers reached the Class B state tournament when Rasmussen was a junior in 1954. They finished sixth and went 29-2.
       The following season Rasmussen averaged 30.3 points per game. That year for the first time South Dakota selected an all-state team and Rasmussen was a member. He totaled 1,991 points playing for Bill Welsh.
        In football Welsh coached Rasmussen and the Honkers into the history book. Claremont was simply unbeatable for several years. Rasmussen was a sturdy two-time member of the all-state team and his leadership helped Claremont set a national six-man record of 61 consecutive victories.
       Also a standout for the Honkers in track, Rasmussen's specialties were the hurdle events and the shot put.
        Rasmussen was among the rare players to be a starter on four conference championship basketball teams in college. Northern State University ruled the South Dakota Intercollegiate Conference from 1956 through 1959. As a senior Rasmussen averaged 14.9 points per game in 1959 and finished his Northern career with 1,102 points.
       The Wolves of Coach Bob Wachs went 86-14 during Rasmussen's time on the roster and he was all-SDIC two years. Northern qualified for the NAIA National Tournament three times in that span. Rasmussen was inducted into both the Northern Hall of Fame and the South Dakota Sports Hall of Fame.
        As a coach Rasmussen guided Alexandria to the Class B state championship in 1963. He also fielded successful teams at Webster, Aberdeen Roncalli and Langford. In addition Rasmussen spent time in banking and also managed a hardware company. He is now retired.
       Rasmussen and his wife Geri live in Langford. Children are Steven, Marc, David and Jean.