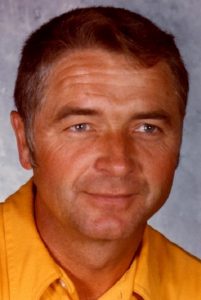 HAYTI 'REDBIRDS' – 1954
     Hayti High School was blessed with an unusual abundance of basketball talent in 1954. The Redbirds won the Class B state championship that season and would later be voted South Dakota's greatest team of the decade for the 1950s. In a star-laden lineup, Harvey Schaefer was the ball-handling guard who directed the Hayti attack. He is the third member of the team to be inducted into the South Dakota High School Basketball Hall of Fame.
      Jim Marking coached the Redbirds. He later moved to Watertown and guided the Arrows to the Class A state title in 1959. Marking then achieved a 148-80 career record at South Dakota State University and took the Jackrabbits to four North Central Conference championships. Schaefer was 5-foot-11 and filled his role perfectly for the Redbirds. He was a masterful floor general who controlled the tempo of games, played aggressive defense, and distributed the ball to high-scoring teammates Harley Petersen and Garney Henley.
     Hayti had finished in second place in the 1952 state tournament, losing to Ipswich 37-32 in the finals, then took sixth in 1953. That set the stage for a triumphant season in 1954. The Redbirds opened the tourney by beating Lennox. They defeated Selby in the semifinal round. The title game then matched Hayti against the Provo Rattlers. The Redbirds prevailed 47-40 to conclude the season with a 32-2 record under Marking, who in his four years at Hayti went 117-13.
     There was no all-state team selected in South Dakota at that time. But if there had been it is likely Petersen, Henley and Schaefer would all have been included. Petersen went on to play at SDSU and was inducted into the SDBBHOF in 2011. Henley starred at Huron University, had a record-setting career as a defensive back and receiver for the Hamilton Tiger-Cats in the Canadian Football League, and entered the SDBBHOF in 2013.
     Schaefer, who also competed in track and baseball at Hayti, attended Dakota Wesleyan University. He became a three-time member of the all-South Dakota Intercollegiate Conference team while playing for the Tigers. Dakota Wesleyan was coached by Jim Borsheim. Schaefer was a four-year starter and during his career scored 1,244 points.
     In his final three seasons Schaefer helped Dakota Wesleyan to records of 17-6 in 1959, 15-6 in 1960 and 14-5 in 1961. He averaged 19 points per game as a senior. Schaefer is a member of the DWU Hall of Fame. He was a longtime educator and coach who during his career served at such schools as Plano, Menno and Milbank. He also spent time as a basketball official. Now retired Schaefer lives with his wife Deanna in Milbank. Children are Randy, Rick and Jackie.