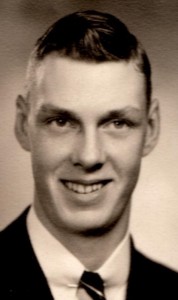 ANDOVER 'GORILLAS' – 1944
                                By Dodie (Marske) Bemis
      When my dad Bob Marske was asked what first came to his mind upon hearing the word "basketball," he would break into a big smile and say, "My first love — made me a million friends and what I really am." Dad said his love for the game started when he was a sixth-grader living on the farm with three brothers and a sister. He was the oldest. They didn't have much in those days and their basket was an old milk bucket tacked up on the barn. The tiny ball they used was far from what a basketball is.
      When Dad was a senior in 1944, the Gorillas achieved a goal all high school players strive for — a trip to the state tournament. In this case it was the State B with Jim Pappas as coach. Lake Norden beat the Gorillas 39-37 in the first round on a last second steal and basket. Andover then beat Bridgewater 41-39 and Agar 57-49 for the consolation trophy. Dad totaled 71 points for the tourney, while Mobridge eventually emerged as the champ. It turned out to be Andover's only state tourney berth.
      Dad had a number of college offers, including the University of Minnesota. It was wartime, however, and he reported to Ft. Snelling after graduation for an army physical. He was told he was too tall for the service and returned home. It was after being rejected by the service and missing college the 6-7 cager really started playing amateur basketball in earnest. Dad was one of the state's premier players and helped form the state's amateur basketball association. His Andover teams won five straight state titles (1950-54) and won 79 straight games. He once scored 75 points in a game.
      In 1953 at the age of 28, he was chosen in the seventh round of the NBA Draft by the Philadelphia Warriors. He was the first guy that never went to college to be drafted. Unfortunately his mother wouldn't let him go.
      In 1963, at age 38, Dad was named the state's Independent Athlete of the Year. And in 1980 he was inducted into the South Dakota Sports Hall of Fame.