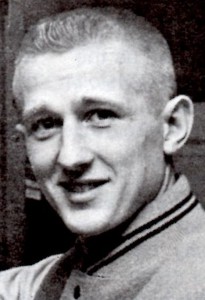 Lake Norden 'Bluejays' – 1957
Don Jacobsen was born on April 2, 1939 in Hamlin County, South Dakota. His parents were Melvin and Alma Jacobsen. They farmed three miles east of Lake Norden. He had five brothers and two sisters. Don started to play basketball at an early age. In 1950 the Lake Norden 7th grade team was undefeated under the coaching of Milt Mehlhaf. Don and his brothers would shoot basketball all day long. They had a basket under the yard light with a dirt playing floor. Don and his teammates went to the 1957 State "B" Tournament and lost to Corona in the opening round game 59-55 after leading much of the game. Don led the 1957 Bluejays to a 33-4 record. He was named to the Class "B" All-State Team in both 1956 and 1957. He was only 6′ but could rebound with the best. Don was a prolific scorer and held the SD. scoring record for over 50 years.
After graduating from Lake Norden High School in 1957, he went on to be one of the all time greats at South Dakota State. A great shooter with speed, he seemed to always be in the right place at the right time. He could play defense with the very best. Congratulations on your selection as a Charter Member of the South Dakota High School Basketball Hall of Fame. We would also like to honor his 1957 teammates at Lake Norden High school and Coach Burt Wrede for a job well done. The other starters were John Larson, Farrell Jacobsen, Don Thue and Lee Bajuniemi (deceased). You guys are all a great part of our basketball history. We want to make sure the 1956-57 Lake Norden Bluejays are never forgotten. Don Jacobsen will be inducted into the South Dakota High School Basketball Hall of Fame on 27 March 2010.