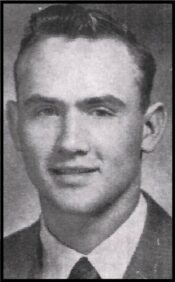 The state single game scoring record was established on Feb. 10, 1953, and has endured for 70 years. Argonne High School was host to the Canova Eagles that night and the performance of Arrows star Delbert Gillam (right) was historic.
Argonne was a small farming-based community which was located about six miles to the northwest of Howard in Miner County. It is now extinct. Gillam was a 6-foot-1 senior when he exploded for 72 points as the Arrows defeated Canova 126-81.
Gillam averaged 25.9 points per game during that season. He was inducted into the South Dakota High School Basketball Hall of Fame posthumously in 2022.
Much has been written through the years about Gillam's record setting effort against Canova, including a feature story about the game and about Gillam's career that appeared in the 2016 Fall Newsletter that was published by the Hall of Fame.
But what was the progression of the record in South Dakota prior to Gillam?
The first documented 40-point-plus scoring effort occurred late during the 1939 season. Corona senior Harold Settje went for 47 points as the Midgets beat Summit. He converted 22 shots from the field and three free throws.
Settje moved on to play at Luther College (Iowa). When the U.S. entered World War II he joined the Marine Corps and served in the Pacific, including the Battle of Guadalcanal. After the war Settje resumed playing basketball at Luther. He later had a career in education. The late Settje spent time as superintendent at both Veblen and Scotland.
Darwin Headrick pushed the record to 55 points when he netted that total for Egan in a 1944 victory over White. Five years later Bob Hanson of Gayville scored 67 points as the Orioles downed Volin in 1949. The record fell again when Bob Wolff of Frederick notched 70 points in a 74-19 win over Stratford in 1952. And then came Gillam and 72.