Lori (Wohlleber) O'Farrell
Summit 'Eagles' – 1986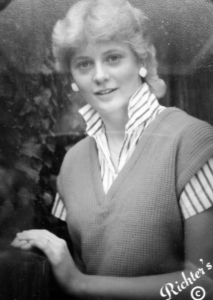 Lori was born on October 20,1068 to Jim and Sandy Wohlleber. She went to Summit School from K-12 and graduated Valedictorian in 1986. In fifth grade she began playing basketball and developed a deep passion for the game and spent all of her free time playing basketball.
She started playing on the varsity team in 8th grade and was coached by Randy Faeth all 5 years. The five year starter for the Eagles had 100 wins and only 19 losses. Her stats were: 60% FG from the field; averaged 27.2 points per game; 393 assists; and 951 rebounds.
In her Sophomore year the Eagles made it to the State B Tournament. It was the first time a team from Summit had ever made it to the State B's. The team then went the next 3 consecutive years: 1983-8th place, 1984-6th place, and 1985-3rd place. Lori led state tournament scoring all 3 years. In 1985 she broke the state tourney record by scoring the most points in one game and most points by an individual in tournament play. She made State B All-Tournament team in 1983, 1984, and 1985. She made the All-State first team in 1984 and 1985. Also, in 1985 she broke the state record held by Robin Anderson for most career points with 2490 points. In 1986 she was chosen Miss South Dakota Basketball which is sponsored by Hansen and Anderson Basketball Preview and Basketball Camps.
Her most memorable moment was the game they won in the Regions which made it possible for Summit to play in the State B's for the first time ever. The other memory is the privilege to play in a State tournament and all the support from the fans that cheered for the team. It gives her goose bumps to this day.
Lori is married to Mike O'Farrell and they presently live in Summit. They have 3 children: Chase(22) is a pilot and flight instructor and is married to Brandi; twin daughters, Logan and Presley(18) attend Augustana and are playing basketball and majoring in nursing. Lori has worked as a business manager for the Summit District for 14 years and is presently at Webster Area School for the last 9 years. Her highest scoring game was 44 points on her 15th birthday in her sophomore year.