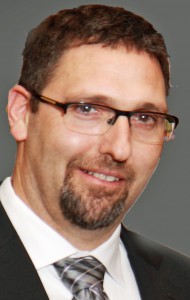 MITCHELL 'KERNELS' – 1989
        No player has left a more indelible imprint on the history of basketball at the Corn Palace than Scott Morgan. While starring at Mitchell High School and Dakota Wesleyan University, his presence made the Corn Palace an imposing venue for visiting teams.
        Morgan played for Coach Gary Munsen and helped Mitchell to three Class AA state tournaments. The Kernels finished third in 1987, second in 1988 and fourth in 1989. Mitchell fell to Aberdeen Central 54-47 in the title game when Morgan was a junior. That season he averaged 18.7 points per game. Morgan was named to the all-state team two years and as a senior averaged 21 points per game.
     Electing to play for his hometown college, Morgan totaled 2,810 points for Dakota Wesleyan. He was a two-time NAIA Division II Player of the Year. As a junior he led Division II in scoring at 30.6 points per game. He was fourth in rebounding with 12.8 per game. That season he scored a state collegiate record 57 points in a single game.
     A year later, as a senior, Morgan was second in Division II at 29.9 points per game and averaged 11.3 rebounds. Morgan was a 6-foot-7 forward who was all-South Dakota Intercollegiate Conference four times. He was voted league Most Valuable Player three years. The Tigers won two SDIC championships with Morgan. They reigned in 1990 and 1992. Morgan grabbed 1,163 rebounds. His career averages playing for Coach Doug Martin were 25.8 points and 10.7 rebounds per game. He shot 54 percent from the field, 36 percent on 3-pointers and 76 percent on free throws.
     Dakota Wesleyan began its basketball program in 1917 and when the school retired Morgan's jersey No. 50 he became only the fifth Tiger so honored. He is a member of the DWU Hall of Fame.
     Morgan and his wife Stacy live in Mitchell. Children are Cole, Connor and Payton.