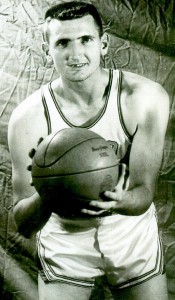 RAVINIA 'BEARS' – 1954
        Dale Hall led a team without a true home court to the championship game of the Class B state tournament in 1953. Ravinia had a population of about 150 and the Ravinia High School gym was small. During the time Hall was a junior and senior the Bears traveled to play their home games in the larger gym at nearby Lake Andes.
        Hall averaged 23.9 points per game as a junior when Ravinia went 25-4. The Bears of Coach Emmett "Ike" Oleson made a strong run at a state title before finishing second. Hayti was 29-0 but in the first round of the state tournament Ravinia topped the Redbirds 49-45. The Bears then downed Emery 55-52 in the semifinals behind 24 points from Hall. The finals matched the Bears against Onida. Ravinia battled gamely but the Warriors held on to win 51-45. There was no all-state team chosen at that time but Hall was named to the all-tourney team after scoring 58 points in the tournament.
     Hall concluded his Ravinia career a year later by netting 27.7 points per game on a team that went 19-6. He played in 103 games during his four seasons and totaled 2,341 points as the Bears went 83-20. His high game was 44 points and there were 18 games in which he surpassed 30 points. During the 1951 season Ravinia featured a starting unit that included three Hall brothers. Verle was a senior, Neil a sophomore and Dale a freshman. The Bears were 17-7 that year.
     After high school the 6-foot-2 Hall enjoyed a decorated career at Huron University. He started four years and was named to the all-South Dakota Intercollegiate Conference team three times. Hall finished with 1,742 points and was the Huron record holder from 1958 until 1973. He averaged 21 points per game for his career. His coaches were Wid Trussler then Darrell Mudra. Hall was inducted into the Huron Hall of Fame.
     Now retired, Hall spent many years as an educator, coach and administrator. He served as superintendent at Wagner for 19 years. Hall lives at Wagner. His late wife was Marcia. Children are Mike, Steve and Jeff.