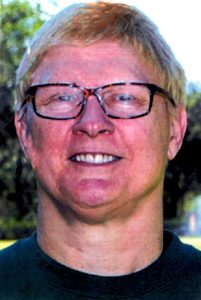 RONCALLI 'CAVALIERS' – 1975
     Precision long-range shooting gave Cary Hornaman the ability to dazzle crowds and demoralize opponents. Throughout his career, at Aberdeen Roncalli High School and then across town at Northern State University, the 6-foot guard was recognized as a pure shooter with few equals.
     Hornaman emerged early as a standout for the Cavaliers. As a sophomore he scored 27 points in the championship game of the Section 4 Tournament at the Aberdeen Civic Arena to pace Roncalli past rival Aberdeen Central 61-54. Roncalli advanced to the State Class A Tournament and finished in fourth place. And the best was yet to come for Hornaman and the Cavaliers.
     Two years later Roncalli returned to the state tourney and won the 1975 championship. In the quarterfinals Hornaman's two free throws with :02 left on the clock sealed a 66-63 win over Watertown. The Cavaliers topped previously unbeaten Miller in the semifinals. Roncalli defeated Rapid City Central 50-42 in the title game. Coach Francis Zacher's Cavaliers had earlier won the Northeast Conference at 14-0. Overall they ended 23-2. That gave them a combined 41-6 record in Hornaman's final two seasons.
     Hornaman averaged 20 points per game as a senior to settle his career total at a Roncalli school-record 1,314 points. He was named to the all-state team as a junior and senior and was a two-time Northeast Conference scoring champion. Basketball was not the only sport in which Hornaman was elite. He was an all-state defensive back in football for the Cavaliers, a sprinter in track and a baseball player of great promise.
     At the collegiate level Hornaman played for Bob Wachs, the legendary Wolves coach whose career record was 535-286. Northern won the NAIA District 12 Independent Tournament when Hornaman was a senior in 1980. In a remarkable display of accuracy, he went 18-for-21 while notching 42 points in a semifinal win over Mary. A newspaper report stated that most of Hornaman's 18 field goals were from long range. Hornaman was a three-year starter for the Wolves and averaged 18 points per game as a senior. He earned all-Northern Intercollegiate Conference and all-District 12 honors.
     He also made a significant mark playing baseball at Northern where he starred for Coach Bart Berndt, the Wolves coach for 26 years. Hornaman was all-District 12 three seasons. He was selected by Cincinnati in the 1978 Major League Baseball Draft and spent two summers as an outfielder in the Reds' minor-league system. Recognized for his dual-sport accomplishments, Hornaman was inducted into the Northern State University Athletic Hall of Fame. After a 35-year career as an educator in Tampa schools he is now retired. Hornaman and his wife Sylvia live in Valrico, Fla.