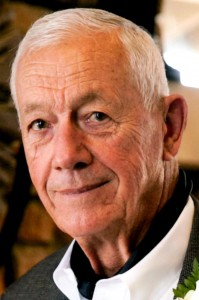 MURDO 'COYOTES' – 1954
        When he made the transition from prep star to college standout, Maury Haugland did not have to change the name of the team mascot on his jersey.
        Murdo High School was a basketball power, compiling a 76-10 record during Haugland's final three seasons. The Coyotes had marks of 24-3 and 22-5 before Haugland's senior year when they went 30-2. Haugland was agile, quick and strong at 6-foot-1 and 195 pounds. A special player in football for the Coyotes, he was equally talented in basketball.
        Murdo reached the Class B state tournament in 1954 for the first time since 1937. Provo edged the Coyotes 65-62 in the first round. Murdo then topped Highmore 76-61 and Claremont 61-57 to earn fifth place. Haugland at center and junior guard Frank Brost – called the "Gold Dust Twins" by the Mitchell Daily Republic – sparked the Coyotes. Haugland scored 73 points in the tourney and Brost 60. For the year they both averaged 20 per game.
        There was no all-state team selected at that time but Haugland, whose coach was Lowell Bell, was chosen all-tourney. Haugland remained a Coyote when he enrolled at the University of South Dakota. There he was a mainstay in both football and basketball, starting for three years in each. His play at forward helped the Coyotes win the 1958 NCAA College Division National Basketball Tournament. Coach Dwane Clodfelter guided USD past Saint Michael's College of Vermont 75-53 in the championship game in Evansville, Ind. Haugland was a member of North Central Conference title teams in 1957 and 1958. He was inducted into the Coyote Sports Hall of Fame.
     After graduation Haugland enjoyed a long career in education before retirement. He was superintendent in Murdo, Wagner, Yankton and Rapid City. He was also a 10-year member, including eight years as chairman, of the South Dakota High School Activities Association's Board of Control.
        Haugland and his wife Pamela live in Lead and winter in Gold Canyon, Ariz. Children are Mark, Mason and Lori.