Sisseton 'Redmen' – 1962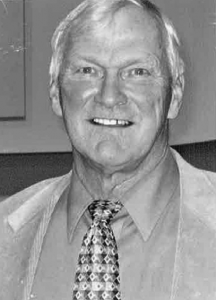 DuWayne Groos was a standout basketball player for the Sisseton Redmen. He made his mark as the starting center for the 1962 Sisseton Redmen coached by Duane Phillips. DuWayne would lead the Redmen to the 1962 State A Tournament. The Redmen would lose a thriller to Sioux Falls Washington in the semi-finals. The Redmen would finish the season 23-2 and DuWayne was chosen to both the All-Tourney and All-State Teams. He was the leading scorer in the tournament with 55 points. DuWayne was a great rebounder and a solid offensive player .
Following high school DuWayne went on to play basketball for the Northern State Wolves and Coach Bob Wachs. During that period of time Northern would win two SDIC Championships. He would set numerous records in scoring and rebounding. He would be a dominate center in the SDIC for those years. He was also selected to the All South Dakota Intercollegiate Conference First team several years in a row and made the District 12 NAIA team.
DuWayne coached high school sports in South Dakota for 30 years.. His first five years were at Cheyenne Eagle Butte High School and the remaining years at the Flandreau Indian School. In 1987/88 DuWayne would lead the Flandreau Indian School to back to back state Cross Country Championships. DuWayne was a long time teacher and coach before retiring at the Flandreau Indian School.
DuWayne is also a member of the South Dakota Amateur Baskteball Hall of Fame, the Northern State University Basketball Hall of Fame and a recipient of the Lakota Nations Service Award. Congratulations on your selection to the South Dakota High School Basketball Hall of Fame.
DuWayne married his high school sweet-heart Betty Misterik from Sisseton,SD.This year they will have been married for 47 years. Greg is the elder son who lives and works in Minneapolis. Their daughter Tresa is the elementary principal at Garretson. They also have three granddaughters, Meagan, a sophomore at South West State, Kendra, a senior at Garretson high school and Malia, a sixth grader at Garretson elementary school. Their youngest son Matthew, and his wife Michelle live in Minneapolis.