DE SMET 'BULLDOGS' – 1971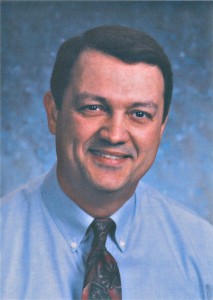 Which sport was in season didn't really matter to Randy. He mastered them all.
Because of his exceptional versatility Randy was named South Dakota High School Boys Athlete of the Year in 1970. While competing for De Smet he ranked among the state's best in basketball, track and football.
Randy entered high school at Bancroft, where his coach was Dick Baysinger. But after his freshman year the school closed. Randy then moved on to De Smet, where he played an integral role in a basketball dynasty that saw the Bulldogs reach the championship game of the State Class B Tournament three consecutive years.
The Onida Warriors edged De Smet 93-90 in a classic title game in 1969. During that loss Randy, a 6-foot-1 sophomore forward, made a tourney record 20 free throws in 25 attempts.
During the next two seasons De Smet won state championships, notching victories in the finals over Stickney in 1970 and Lennox in 1971. The Bulldogs were talented and deep. Their depth was exhibited by the fact they placed a different player on the all-state first team during each of their trips to the title game: Tom Hein in 1969, Randy when he averaged 16.7 points per game in 1970 and Terry Long in 1971.
Randy's senior season was slowed by a knee injury but he still received all-state recognition for the third time. The Bulldogs were coached during those glory years by Larry Luitjens, the current Custer coach who holds the state record for boys basketball victories with more than 700. After high school Randy attended the U.S. Naval Academy, graduating in 1975.
Randy lives in Arlington. He and his wife Karen have two children: Whitney and Jacklyn. The South Dakota High School Basketball Hall of Fame is proud to induct Randy as a member of its Class of 2012.