Greatness of the '72 Rustlers still resonates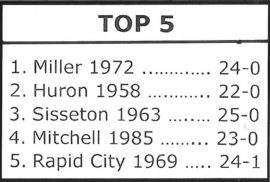 On a winter night, 50 years ago, the Miller Rustlers met Britton's Braves in a regular-season basketball game. At the time it was viewed as simply a matchup between two good teams that each had great potential. But the game turned out to be more meaningful than that.
     Miller trailed late but rallied to edge the Braves 66-63. It was a rare game in South Dakota history in which the eventual Class A state champion faced the eventual Class B state champion. And without the hard-earned victory the famed Cinderella season of the Rustlers in 1972 would not have been accomplished with an undefeated record.
     Bob Dockter was coach of the Rustlers. A native of Cresbard, he was only 28. Years later he acknowledged that Miller's victory over Britton was a pivotal moment in what turned out to be a magical season for the Rustlers. The Braves of Coach John Bruce had went on to rule Class B, defeating Wessington 81-60 in the championship game.
     Miller had an enrollment of 375 students and was the smallest school in Class A. That contributed to widespread crowd support at the state tournament as the Rustlers beat big schools Sioux Falls Washington, Rapid City Stevens and Yankton to finish 24-0. Dockter relied heavily on Rick Nissen, Kim Templeton and Jeff Wilber. Nissen went on to become an all-time great at the University of South Dakota while Templeton did the same at Black Hills State. Wilber became a starter at Augustana. Templeton and Nissen are members of the South Dakota High School Basketball Hall of Fame.
     In the championship game Templeton had 21 points and Nissen 17 as the Rustlers, with Dan Gerdes their tallest player at 6-foot-3, beat Yankton 68-54 at the Sioux Falls Arena. The Bucks were led by their 6-11 sophomore star Chad Nelson with 21 points. A statewide group of basketball experts were on a panel assembled by the Argus Leader in 1988 to determine the greatest team in South Dakota history (Top 5 above). Miller of 1972 was the solid choice as No. 1.