Pierre High School 1967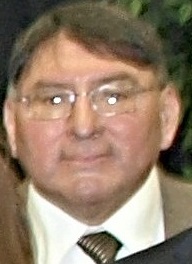 Bruce was born in Chamberlin, SD. on Feb-3, 1949. He moved to Pierre in 1952 with his parents where they lived near the Boys Club. Bruce had an older brother Dick Bad Moccasin who was a good player for Pierre, he graduated in 1958. Bruce started playing at the boys club and grade school. Bruce had great dribbling skills and was very quick, plus he could shoot the ball well.
In 1966 Bruce played in his first state tournament and made 3rd team all-state that year. In 1967 Pierre entered into the ESD conference and Bruce finished 4th in the ESD scoring race with 16 points per game. The Governors lost to Rapid City Central in the second round. Bruce was selected to the All-State First team that year. The 5-10 Senior was instrumental in the high finish in both the ESD and the State "A" Tourney. Bruce immediately went on to be an impact player at South Dakota Tech where he graduated in 1972 as a Professional Engineer. Bruce Bad Moccasin was not only a good basketball player but a good student. Bruce Bad Moccasin will be inducted into the South Dakota High School Basketball Hall of Fame on 27 March 2010.