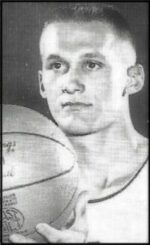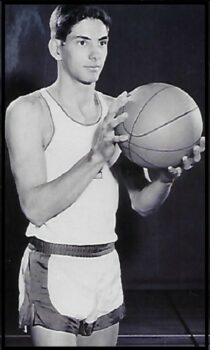 Bob Shelden and Dennis Busch started out as competitive high school rivals within the Eastern South Dakota Conference. They later joined forces and became collegiate backcourt mates who shared in one glorious season. Tragically the lives of both Shelden and Busch were ended far too soon.
Talented all-state players, Shelden at Brookings and Busch at Huron, they played on outstanding teams. Shelden (right) led the Bobcats to the State Class A Tournament in 1958. Busch (left) and the Tigers entered that tourney with an undefeated record and claimed the championship to finish 22-0.
Three years later, in 1961, Shelden and Busch were both 6-foot-1 sophomore guards at South Dakota State. They comprised the starting backcourt on a team that won the North Central Conference and upset the country's top rated team, Prairie View A&M (Texas), in the championship game of the Midwest Regional.
South Dakota State went on to take third place in the NCAA College Division National Tournament in Evansville, Ind. Just eight months later Shelden was diagnosed with Hodgkin's disease. He was only 21 when he died on April 23, 1962. Busch's death was the result of an accident while he was working a summer job on an Interstate 90 highway project. He was 23 when he was electrocuted at a work site near Humboldt on Aug. 26, 1964. Busch had been planning to return to South Dakota State in the fall in order to complete his master's degree.
Memories of Shelden and Busch live on today. The Dennis Busch Memorial Award has been presented annually to an outstanding athlete at Huron High School. And Bob Shelden Field is an important part of the athletic landscape in Brookings, having served a variety of valuable purposes for Brookings High School, the city, and for South Dakota State.