MADISON 'BULLDOGS' – 1965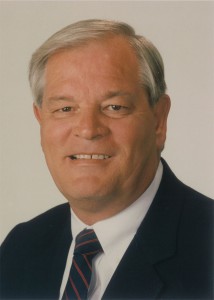 South Dakota doesn't often see a boys basketball player in its big-school class who starts for four years and makes all-state for three. Tom was a member of that elite fraternity.
Madison was a Class A school while Tom played during the two-class era. The Bulldogs competed against larger schools in the Eastern South Dakota Conference. That created a challenge that Tom took to heart.
Tom broke into the starting lineup as a freshman and for four seasons he impressed opponents with his ball-handling and passing skills. During his final three seasons playing for Cal Mathison he ranked among the top scorers in the conference. Tom's leadership helped keep the Bulldogs competitive in the ESD. He was rewarded by being named to the all-state team in 1963, 1964 and 1965.
Averaging 18 points a game during his final two seasons, Tom, who also played football, surpassed the 1,000-point barrier for his career. As a senior, on a team with limited experience, the 5-foot-11 guard led the Bulldogs past Brookings in an opening game of the section tournament. Madison then nearly accomplished an upset in the finals when the Bulldogs battled to the wire before falling to eventual state champion Sioux Falls Washington.
Tom remained in Madison to play collegiately. He was a four-year performer for Ed Harter at General Beadle State Teacher's College, now Dakota State University. Tom helped the Trojans to 20 victories, most in school history, when he was a sophomore in 1967. General Beadle State was champion of the South Dakota Intercollegiate Conference that year.
Two years later, as a senior, Tom was chosen to the all-SDIC team. He was inducted into the DSU Hall of Fame.
Tom lives in Dawsonville, Ga. He has one child: Tommy. The South Dakota High School Basketball Hall of Fame is proud to induct Tom as a member of its Class of 2012.